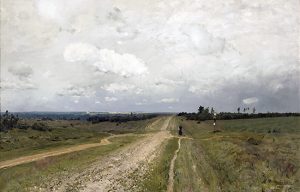 Long before there was the daughter colony, Rosenberg on the Bergseite, there was Umet a post stop along the old postal road running north and south between Kamayshin and Saratov. Settlers from Dobrinka, Grimm, Holstein, Franzosen, Shcherbakowka and other villages were said to have established Rosenberg in 1847, however, notes in the 1857 Doenhof census say their settlers left for Rosenberg in 1853/54. Rosenberg had a postal station with nine horses.
The village is located on the east bank of the Ilovlya river by a steep bluff. Wild rose bushes grew over this bluff–the name Rosenberg means "hill of roses."
The settlers were of the Lutheran faith. A Lutheran parish was established in Rosenberg 1859 with a pastor who also served congregations in the daughter colonies of Oberdorf and Erlenbach.
There was a medical assistant's station with one medical assistant. A doctor would visit every two weeks. There was also a Lutheran church and a school founded in the communal house. The settlers were of the Lutheran faith.
By 1865, 104 colonists had moved to the Kuban (an area in southern Russia).
The tradesmen in the village in 1886 included 18 shoemakers, 8 bricklayers, 1 tailor, 5 carpenters, 3 joiners (cabinetmakers), 3 carters, 2 smiths, 4 sieve makers, 4 grain traders, and 3 weavers.
Thirty-seven colonists left for America in 1877. An additional 184 colonists immigrated to America between 1886-1887. Settlers to America settled in:
·         Larimer Co, Colorado
·         Genesee, Saginaw, Tuscola Co's, Michigan
·         San Joaquin Co, California
·         Multnomah Co., Oregon
·         Scotts Bluff Co, Nebraska
Following the end of the "Special Settlement" era in 1956, many Volga German families returned from Siberia and Kazakhstan and settled in Rosenberg. During the 1990s, approximately 70 families immigrated to Germany from Rosenberg.
Today, what remains of the former colony of Rosenberg is known as Umet.