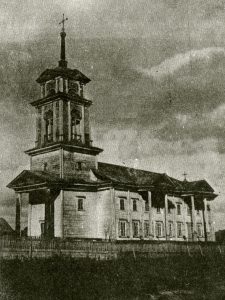 The Colony Doenhof was founded on 4 July 1766 by the Crown, as a Protestant colony, with families from Palatinate, Hessen, Isenberg, Würzburg, Württemberg, and German settlers from the colonies founded in Schleswig by the King of Denmark, with few exceptions. Some of these settlers arrived in two groups, the first on 4 July and the second on 21 July 1766. Finally, a third group arrived on 18 June 1767. These families were recorded in the First Settlers List, also known as the 1767 Census, in the household where they were living. Doenhof was named for the first elected mayor, Christian Dönhof. The colony received its official Russian name of Gololobovka (Гололобовка) on 26 Feb 1768.
Doenhoffers included those of both the Refomed and Lutheran faith and were originally part of the parish in the nearby colony of Grimm (Lesnoi-Karamysch). Where the Doenhoffers worshipped until 1834 is unknown, however, by then they built one wooden, domed church on the corner of the main intersection, which served both faiths and was never replaced, unlike most of the other mother colonies. It was still in use in 1927 when Stalin shut out the outside world.
Doenhof was located in the Kamyshin district of Saratov on the Bergeseite (hilly side) of the Volga on a hill overlooking the Karamysch stream. The village was bordered by lands owned in common by the colonies of Moor, Grimm, Huck, Messer, and Kutter. It had 109 households at its founding. In 1798 the inhabitants were growing rye, wheat, and oats.
Due to over-population, by the 1850s some families began to resettle to what would become known as daughter colonies. Between 1863-1887, some 1,519 colonists resettled on the Weisenseite (meadow side) of the Volga and the Caucuses. Some began immigrating to the Americas and some colonists resettled to Podsosnovo in Siberia between 1889-1891. The main daughter colonies of Doenhof were Neu-Doenhof, Unterdorf, Rosenberg (Umet), and Gnadenfeld. Some of the notable place where Doenhoffers settled in the US were:
Denver (Globeville), Larimer and Weld Counties, in Colorado
Des Moines and Muscatine Counties, in Iowa
Fulton Co. Ohio
and Portland, Multnomah Co. Oregon
Doenhoffers also immigrated to Argentina settling in the Entre Rios Province.
By 1862 the village had a church, school, college, two markets, two tannery works, two (sunflower) oil presses, and one mill. In 1886 there were 25 cottage industries, four drinking establishments, and four shops. Also notable in 1894 was the manufacturing of Saprinka (gingham) fabric.