The village of Neu-Doenhof was founded in 1863 by 87 families, no doubt the majority of whom were renters, shown in the 1857 census, before it was officially a village.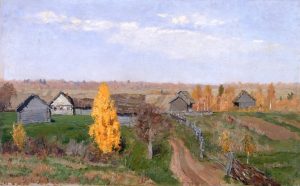 The original settlers of Neu-Doenhof were of the Lutheran faith. From 1863-1865 they were served by the pastor from Beideck and from 1880-1886 the pastor from Norka. The remainder of the colony's existence they were served by the Dietel parish. The pastors visited once a month to perform mass baptisms, marriages and funerals except in extreme weather. Neu-Doenhoffers never built a church so with the exception of funerals which were held in family compounds; baptisms, church service and weddings were performed in the schoolhouse.
Neu-Doenhof was located on the bergseite a day's drive by wagon due west from Doenhof, next to a ravine. At the top of the ravine they built a reservoir. Neu-Doenhoffer's domestic water was fed by springs which prevented major outbreaks of cholera and typhoid. The village was neighbored by the colonies of Neu-­Messer and Neu-Balzer with the closest mother colony, Kolb. With each passing generation, as Neu-Doenhof families became more distanced from Doenhof, more marriages were formed with Kolb and Lysanderdorf (Neu-Messer).
There were two schools, one of which was a parish school opened in 1863, and the other a Zemstvo, a pre-Revolutionary Russian school which opened in 1888.
By 1886 the village had nine cottage industries and one store. The main industries were farming and weaving. In winter, wagons and winnowers were produced and Saprinka cloth was woven, although, many men continued the practice of leaving for the cities in winter to earn cash.
In 1876 seven men immigrated to America and one family moved in 1886. An additional three families moved to America in 1887.
Among places of settlement in America were:
Rush Co, Kansas
Des Moines Co, Iowa
Pierce Co, Washington
Neu-Doenhof's name was changed to Novinka after the deportation of the Volga Gemans in 1941. As of 2003, Novinka had about 600 people. There is a secondary school, a health facility, a shop, a bakery and a small museum concerning the Volga Germans. There is gas available and a paved road coming from Norka.